Best Practice Legal Workshops Skills for OISC Firms- 10% Discount Available Now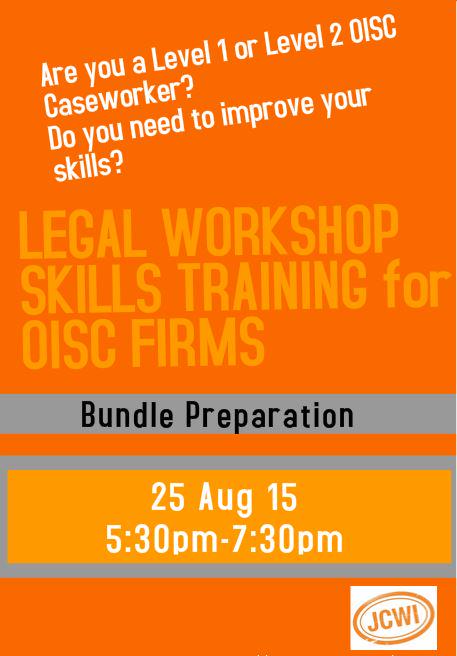 Legal workshops skills training for OISC firms - Level 1 & 2  caseworkers.  These 2 CPD hrs workshops are aimed exclusevely to  OISC firms.
     Maximum participants is 10 per workshop.
   Book early for a 10% early bird discount - available until 7 Aug. Also, book on the all the workshops or get 2 of your colleagues to join you to
   receive a    further 10% discount .
   WORKSHOPS:
   - Bundle preparation (25 Aug 15);
   - Drafting (29 Sept 15);
   - How to examine Home Office Refusal Letters (20 Oct 15);
     EEA applications and bundle preparation (24 Nov 15).
     For full information and to book on the workshops click on the link here :   http://www.jcwi.org.uk/training/best-practice-oisc-training-programme
Family Migration Rules
Have you been affected by the Minimum Income Requirement?
Have your children been separated (or are they at risk of separation) from a parent as a result of the Family Migration Rules?
If so, we want to hear from you!
Email your stories to policy@jcwi.org.uk 
Your input will provide invaluable data in the battle to achieve a fairer immigration system.
Right To Rent Checks - Our Survey
The UK government is conducting a pilot scheme in the West Midlands asking landlords in the private sector to conduct immigration checks. Movement Against Xenophobia is evaluating the scheme. We urgently need your input.
These surveys are for all landlords, agents, tenants, sub-tenants and lodgers who feel that they may have been affected by the right to rent policy, or will be in the future.
For more information go to the  Right To Rent Checks page or go directly to the survey links below.
If you are a landlord or agent or both go to this survey: http://bit.do/LandlordAgentSurvey
If you are a tenant or lodger or both go to this survey: http://bit.do/TenantsLodgerSurvey
Training Courses
14 August 2015

,

London

18 August 2015

,

London

21 August 2015

,

London

25 August 2015

,

London

1 September 2015

,

London
About Us
JCWI is an independent national charity established in 1967. Since its inception it  has promoted justice and fairness in immigration, nationality and asylum law and policy. It provides direct legal advice and assistance to those who are affected by the unfairness of the UK's immigration control. JCWI also actively lobbies and campaigns for changes in law and practice. The organisation's overarching objective is to ensure immigrants and refugees are treated fairly by promoting their human, economic and civil rights within an international human rights framework. Its mission is to eliminate discrimination in this sphere. JCWI has been instrumental in influencing debates on immigration and asylum issues in both the UK and at European level.
JCWI undertakes the following:
Legal Advice and Strategic Casework
Policy Work and Campaigning,
Legal Training for practitioners
Publications of guides, handbooks and other reference material
JCWI in the Spotlight
JCWI is frequently approached for comment or interviews about immigration policy and practice. We are usually happy to take these opportunities to participate in the national immigration debate. Here is a list of some of our more recent media appearances.